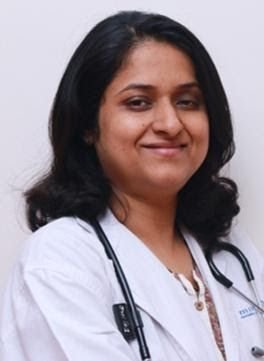 Dr. Abhilasha Sadhoo is one of the best cancer doctor in Bangalore and one of the core members of the team who assist Dr Sandeep Nayak.
She is a dedicated and experienced ENT surgeon committed to providing excellence in her area of specialization: Head and Neck Oncology and Trans Oral Robotic Surgery (TORS).
TORS is the most advanced surgery when it comes to treating cancer of the throat and mouth. With the help of this technique, the surgeon can access the tumor directly from the mouth itself.
Dr. Abhilasha Sadhoo is a highly skilled surgeon who specializes in head and neck trauma. Her other areas of competence include Transoral Robotic Surgery, Head & Neck Oncology, and Laser Surgery. Early detection and treatment of avoidable head and neck cancers. She specializes in reconstructive surgery as well as head and neck cancer.
After completing her MBBS and MS – Otorhinolaryngology from Government Medical College, Jammu University. She later did her Fellowship in Head and Neck Oncology from Kidwai Memorial Institute of Oncology, Bangalore. And has a Certification course in Essentials of Palliative Care on 30th August 2018 from Kidwai Memorial Institute of Oncology, Bangalore.
She has a total of 19 years of medical experience working at top medical facilities and currently working as a consultant in Surgical Oncology at Fortis Hospital, Bannerghatta Road.  
Work Experience
Assistant Surgeon in Kidwai Memorial hospital
INTEREST
Head & Neck Onco, TORS
Operating Hours
Dr. Abhilasha Sadhoo's operating hours at Fortis are as follows:
Monday from 08:30 – 10:00, 
Wednesday from 08:30 – 10:00,
Friday from 08:30 – 10:00.