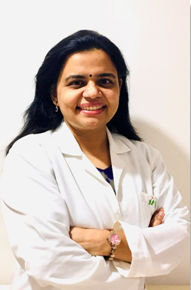 Dr. Nisha Vishnu is a seasoned radiation oncologist who has worked in some of the most prestigious hospitals in India. She earned a fellowship in advanced Radiation Oncology techniques and brachytherapy after graduating and post-graduating from prestigious medical colleges.
She is well-versed in all aspects of oncology, with a keen interest in breast, head-neck, and gastrointestinal cancers. She is skilled in all of the most recent treatment delivery techniques, including IMRT, IGRT, SRS/SRT, Brachytherapy, Tomo-therapy, and has extensive proficiency in Cyberknife.
Dr. Nisha received her M.B.B.S. and Internship from Gwalior's G.R. Medical College (Nov 2000-March 2006). She also holds a master's degree in radiation oncology from Kanpur's J.K. Cancer Institute (GSVM Medical College) (May 31st, 2012- May 31st, 2015). For the past three years, Dr. Nisha has worked as a Research Associate in the Department of Anatomy, Physiology, and Genetics at the Uniformed Services University of Health Sciences (USUHS) in Bethesda, Maryland, USA. 
She has also collaborated with the Medical Genetics Branch of the National Human Genome Research Institute (NHGRI) of the National Institute of Health (NIH), Bethesda, USA, on the analysis of data from individuals with Herminsky Pudlak Syndrome using Comparative Genomic Hybridization (CGH).
Operating hours of Dr Nisha Vishnu
Dr. Nisha Vishnu's operating hours at Fortis are as follows:
Monday to Saturday: 11 am to 2 pm, 
Except for Sunday.
Registrations
MYP20060000117KTK, Karnataka Medical Council, 2020