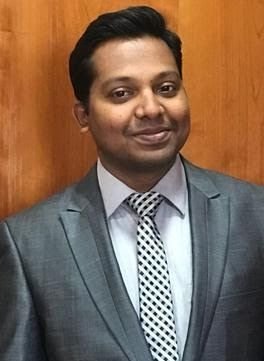 Not many cancer doctors are as skilled and experienced as Dr Bharath G. He has more than ten years of experience. His area of interest is minimally invasive and robotic surgery and HIPEC. Also, he makes it a point to keep himself updated with the latest additions happening in surgical oncology.
Further, Dr. Bharath takes time from his busy schedule to be a teaching faculty member at RRMCH, where he is an Assistant Professor.
Talking about his education, Dr. Bharath completed his MBBS from KIMS, Bangalore, and MS from Municipal Medical College, Ahmadabad. Moreover, he did his M. Ch in surgical oncology from the world-renowned Tata Memorial Hospital, Mumbai. He is a member of various associations like ASI and IASO. 
Condition Treated by Dr. Bharath G
Some of the conditions surgical oncologist Bharath G treats are:
Colon Cancer and Bowel Diseases
Ependymomas
Mixed Gliomas
Crohn's Disease Or Severe Diverticulitis
Meningiomas
Oligodendrogliomas
Brain Cancers- Astrocytoma
Stomach Cancer
Primitive Neuroectodermal Tumors
Anal Cancer
Colorectal or Colon Cancer
Ovarian Cancer
Skin Cancer
Lung Cancer
Most women affected with breast cancer undergo some type of surgery as part of treatment. There are various types of breast surgery. This might be performed for different reasons. Surgery may be done to remove cancer through mastectomy. The surgery is also performed to know if cancer has spread to body parts and to restore the breast's shape.
Signs & Symptoms treated by Dr. Bharath G
Your symptoms depend on the type of cancer you are affected with, what is the stage, the location of cancer, and how far it has spread in the body. Cancer may cause any type of symptoms or signs. A sign can be seen by others, such as a fever, vomiting, and breathing. Symptoms can be perceived only by the person is suffering from the condition. Around 200 types of cancer are known till date and all these can cause different symptoms. Although there may be different symptoms in different types of cancer, some general symptoms of cancer include:
A new cough that doesn't go away
Headache
Bone pain
Losing weight without trying
Hoarseness
Coughing up blood, even a small amount
Shortness of breath
Chest pain
Operating hours of Dr. Bharath G
Dr. Bharath G  operating hours at Fortis are as follows:
Monday to Saturday works from 11 am to 6 pm, 
except for Sunday.
Procedures performed by Dr. Bharath G
The list of popular procedures that Dr. Bharath G performs for cancer treatment is given below
Hemicolectomy
Breast Cancer Treatment
Abdominoperineal Resection
Lung Cancer Treatment
Mastectomy
The surgical oncologist can perform even the most complicated cases with ease. The doctor has reported a high success rate in performing various procedures with high precision and accuracy. The doctor also holds a rich experience in handling complex cases with ease. The specialist is proficient in using the latest techniques to perform the procedures. There are two types of cancer surgery – minimally invasive surgery and open surgery. In open surgery, a surgical oncologist makes a large incision, to remove the tumor and some of the adjacent healthy tissues. Minimally invasive surgery involves laser surgery, cryosurgery, robotic surgery, laparoscopy, cryosurgery.
Past Experience
Fortis Hospital, Bangalore
Oncology India Hospital, Bangalore
Research Papers & Publications
He has participated in several Annual Conferences, workshops and has presented papers, journals, and posters in national and state-level conferences.
He has won the best award for a paper presentation on the study of Tetanus cases.