Surgery for Lung Cancer
Surgery is widely used to treat early-stage lung cancer. If the tumor and surrounding lung tissue are removed, patients with localized diseases have the best chance of being cured. Your surgeon will determine the resectability of a tumor. Because of their proximity to or invasion of vital structures, not all tumors are suitable for surgical resection.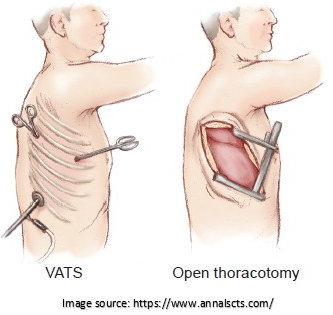 Surgery may not be the best option for patients with multiple medical issues or poor lung function.  When resection is required, Dr. Sandeep Nayak mostly considers minimally invasive approaches. He usually performs VATS lobectomy, video-assisted thoracic surgery (VATS), and robotic surgery for treating lung cancer. 
Surgical resection of lung cancer is typically performed as follows: 
Limited resection: A wedge or segmental resection is an operation in which only a tiny portion of the lung is removed.
Lobectomy: The surgical removal of a specific lung lobe is known as a lobectomy.
Pneumonectomy: The surgical removal of an entire lung is known as a pneumonectomy.