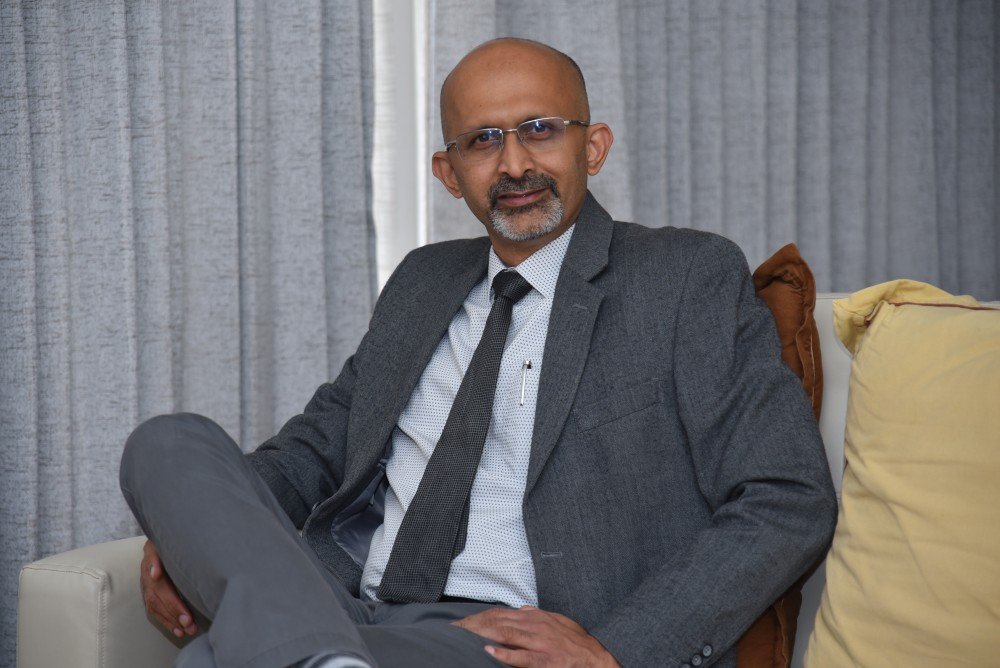 Dr. Sandeep Nayak

Qualification: MBBS, DNB (General Surgery), DNB (Surgical Oncology), MRCS (UK), MNAMS (General Surgery), Fellowship in Laparoscopic and Robotic Surgical Oncology
​Current Position:
Chief of Surgical Oncology, MACS Clinic, Jayanagar, Bangalore.
Professor & HOD of Minimal Access Surgical Oncology (RGUHS).
Director, Department of Surgical Oncology, Fortis Cancer Institute, Bangalore.
Specialty: Surgical Oncologist
Experience: More than 15 years.
Expertise: Advanced laparoscopic cancer surgery, robotic surgery, endoscopic surgery
Dr. Sandeep Nayak is one of the leading surgical oncologist in India. He is the Founder and Chief of Surgical Oncology at MACS Clinic, Bangalore, an exclusive specialty clinic for minimally invasive cancer surgery, including robotic, laparoscopic, and endoscopic surgery.
Further, he is the Director of Surgical Oncology, Professor and HOD of Minimal Access Surgical Oncology at Fortis Cancer Institute, Bannerghatta Road, Bangalore.
His major area of interest includes colorectal cancer, digestive tract cancer, head and neck cancer, breast cancer, urinary tract cancer, gynecologic cancer, and abdominal organ cancers.
Over the course of his career, Dr. Sandeep Nayak has treated thousands of patients not only from India but all over the world. They travel from far and wide to get themselves treated by an expert cancer specialist in Bangalore.
They have immense faith in him, which his excellent track record can prove. Very few onco-surgeons are as proficient as him in this field, and rightly so, he is considered one of the best oncologist in India.
He has a keen interest in laparoscopic and robotic surgery and is considered a pioneer of laparoscopic cancer surgery in India. His passion and dedication to his profession inspire him to introduce revolutionary surgical approaches that give patients a fighting chance to overcome cancer.
Dr. Sandeep Nayak and his team of highly experienced cancer specialist in Bangalore offer their patients the best evidence-based, cost-effective treatment options. His top objective is to provide ethical and dependable care that meets the highest standards.
Specialization
Dr. Sandeep Nayak, an ace surgical oncologist in India, is well-versed in conventional open surgery as well as advanced laparoscopic and robotic surgery.
However, compared to traditional open surgery, robotic and laparoscopic cancer surgery significantly minimizes patient suffering while maintaining the same or better cure.
He is highly proficient in advanced laparoscopic surgery that he has introduced, such as Minimally Invasive Neck Dissection (MIND) for cancer of the mouth and Lateral Approach Modified Video Endoscopic Inguinal Lymphadenectomy (VEIL) for the groin nodes.
Further, Dr. Sandeep Nayak has introduced Robotic-Assisted Breast- Axillo Insufflated Thyroidectomy (RABIT) treatment which is considered one of the best methods of robotic thyroid surgery in the world.
These cutting-edge surgical techniques provide enhanced view and a greater level of accuracy and precision. They help operate on areas that are hard to reach in open surgery.
That's the main reason why Dr. Sandeep Nayak, one of the best oncologist in Bangalore, prefers using minimal access cancer surgery for its quick recovery, less pain and trauma, and shorter hospital stay.
Expertise
Dr. Sandeep Nayak, one of the top surgical oncologist in India, is highly qualified and experienced in treating the following cancers. He is well-versed in all the surgical procedures mentioned below.
Breast Cancer: It is the most common cancer among women, but it can even occur in men. Dr. Sandeep Nayak is one of the most sought-after surgical oncologist in India for breast cancer treatment. This is due to his expertise in saving the breast with a good cure rate and performing sentinel node biopsy (SNB) to reduce the risk of hand swelling up (edema). His expertise is established in both lumpectomy or mastectomy to treat it. He has also started intraoperative radiation therapy (IORT) using Intrabeam for the first time in India. This can reduce the treatment of breast cancer from 45 days to just 1 day in selected patients.
Most breast cancer patients get discouraged with the need for long-term radiation therapy. But advancements in breast cancer treatments have made it possible to administer a single dose of radiation therapy during lumpectomy surgery. This therapy is known as intraoperative radiation therapy (IORT).
The outcome of IORT is nearly the same as observed in early-stage breast cancer patients who are treated with the traditional whole-breast radiation therapy ( takes approx 45 days ) given after surgery as per published studies in the British Medical Journal. The one-time IORT process lasts 30 - 40 minutes with no radiation to normal tissue and no compromise in the cancer cure results.
Did you know that Breast Cancer Treatment Can be completed in 1 day? Click here to learn more
Thyroid Tumor: Thyroid tumours develop in the thyroid glands that is in front of the neck, which produce hormones to regulate your metabolism, body temperature, and heart rate. Surgical interventions such as hemi or total thyroidectomy are standard treatment options for thyroid nodules. RABIT procedure that is developed by Dr Sandeep Nayak, who has performed more than 500 thyroid surgeries, has reduced the complications of this procedure and made it safe for most of the patients. Both benign tumors and cancers of thyroid can be operated by this technique.
Rectal Cancer: They form in the rectum, which is the last part of the intestine. It is the second most common cancer in women and the third most in men. Many patients with this cancer are told to undergo a permanent colostomy (stoma) where the faeces will drain into a bag. However, permanent stoma can be avoided in about 90% of rectal cancers. Dr. Sandeep Nayak is known for his expertise in Intersphincteric resection (ISR) for low rectal cancers, which is meant to preserve the anus and avoid permanent stoma. He has performed more than 300 rectal cancer surgeries. Most of the rectal cancer surgeries in standard centres across the world are performed robotically or laparoscopically.
Colon Cancer: Dr. Sandeep Nayak is counted among the best oncologist in India for colon cancer. He is known for his quality of D3 lymphadenectomy, central vascular ligation, and complete mesocolic excision, which have been shown to improve the survival of colon cancer patients. He is proficient in right hemicolectomy, total colectomy, etc. Most of the procedures are performed laparoscopically. Some of colon cancer patients may need HIPEC.
Stomach Cancer: It is also referred to as gastric cancer and forms in the inner lining of your stomach. Depending on your stage and condition, the surgical oncologist may recommend endoscopic mucosal resection, partial gastrectomy, or total gastrectomy. These procedures are combined with D2 lymph node dissection, which has shown to improve the cure rate. Robotic and Laparoscopic gastrectomy has now become a standard of care. Dr. Sandeep Nayak has performed over 300 of these procedures with less than 5% minor complications.
Oesophageal Cancer: It occurs in the food pipe that connects your throat to your stomach. Dr. Sandeep Nayak, a highly acclaimed cancer specialist in Bangalore, provides the following surgeries to treat it: thoraco-laparoscopic or robotic esophagectomy along with 2 or 3 field lymph node dissection. He has performed over 100 of these procedures with the least complications. The beauty is that most of the patients can be discharged within a week.
Oral, Head, and Neck cancers needing Neck Dissection: It is a major procedure that removes the lymph nodes in the neck. The different neck dissection types include radical neck dissection, modified radical neck dissection, and selective neck dissection. Dr. Sandeep Nayak is known for the innovative procedure Minimally Invasive Neck Dissection (MIND), which can be performed robotically or using standard laparoscopy.
Kidney Cancer: Radical nephrectomy and partial nephrectomy are two of the main procedures to treat kidney cancer which is on the rise nowadays. When it is feasible, the kidney is preserved by performing a partial nephrectomy. Partial nephrectomy is best performed robotically.
Uterine Cancer: There are two types of uterine cancer, endometrial cancer, and uterine sarcoma. Surgery is the main line of treatment, and the procedure is called extrafascial hysterectomy. There are many new developments in uterine cancers, which include sentinel node biopsy (SNB) and robotic surgery, which reduce the long-term side effects of surgery. Most of these surgeries are performed by laparoscopy.
Ovarian Cancer: Ovarian cancer develops in the ovary, a part of the female reproductive system that produces eggs. The oncologist will use a combination of treatments to manage it. Depending on the cancer stage, he may remove the affected ovary and fallopian tube, or both the ovaries. Many of these patients may need a specialized procedure called HIPEC, which is shown to improve the outcomes.
Pancreatic and Bile Duct Cancer: These cancers are challenging and need complex care plans. Surgical options for pancreatic cancer include Whipple procedure, distal pancreatectomy, and total pancreatectomy. One of the first robotic Whipple procedures in India was performed by Dr Sandeep Nayak. The procedure is complex; however, laparoscopic and robotic procedures enhance the recovery.
Cancer of Penis, Vulva or Leg need Inguinal Block (groin) Dissections: This procedure is done to remove lymph nodes from the groin area, which are then examined to find out if the cancer cells have spread to other sites or not. Dr. Sandeep Nayak, one of the best oncologist in Bangalore, is a pioneer in modified video endoscopic inguinal lymphadenectomy (VEIL) for the groin nodes. Open inguinal dissection has a very high complication rate which can be completely prevented when VEIL is performed.
Prostate Cancer: It is a common cancer affecting men that begin in the prostate glands. Low-grade prostate cancer is managed through active surveillance, while advanced-stage cancer is treated with radical prostatectomy. More than 60% of radical prostatectomies are performed robotically as of today. In our case, it is nearly 100%. This is one surgery that has benefitted maximum from robotics.
TORS: Transoral robotic surgery (TORS) is a highly advanced surgical procedure for removing throat cancers through the mouth without any wounds or incisions on the skin. The surgeon employs a hi-tech computer-enhanced system to manoeuvre the surgical tools. Dr. Sandeep Nayak, a renowned surgical oncologist in India, is an expert in this procedure.
Testicular Cancer: This cancer develops in the testicles, and surgery is the first line of treatment for it. The surgical options to treat it are orchiectomy, testis-sparing surgery (TSS) and retroperitoneal lymph node dissection which can be performed by laparoscopic or robotic surgery.
Urinary Bladder Cancer: It is a common cancer that develops in your bladder, and the best way to overcome it is through surgery, which includes TURBT, cystectomy, neobladder reconstruction, ileal conduit, and continent urinary reservoir.
Liver Cancer: Liver cancer is classified as primary or secondary. There has been a rise in the cases of primary liver cancer in recent years. The surgical options available are partial hepatectomy and total hepatectomy with liver transplant. Many of these cases are performed robotically or laparoscopically.
Adrenal Tumors: These tumors can be cancerous or noncancerous. Even the non cancerous tumor can have severe symptoms or can be dangerous. The surgical oncologist will remove the entire adrenal gland during the procedure. Laparoscopic adrenalectomy has become a standard of care today.
Dr. Sandeep Nayak: A Surgical Oncologist in India Par Excellence
Dr. Sandeep Nayak is counted among the best oncologist in India for his exceptional surgical skills and positive outcomes. He is a member of many prestigious associations, including the Royal College of Surgeons of Edinburgh, UK.
He had a distinguished academic career with several degrees to his name. After pursuing MBBS from Kasturba Medical College, Dr. Sandeep Nayak did his post graduation in general surgery from Government Medical College, Calicut.
He followed it up with a doctoral in surgical oncology from Chittaranjan National Cancer Institute, Kolkata. Then he went on to acquire his Fellowship in Laparoscopic and Robotic Onco-Surgery.
In his illustrious career, Dr. Sandeep Nayak, a cancer specialist in Bangalore, had the opportunity to work and gain experience from some of the leading medical institutes around the world.
He was a teaching faculty at Kidwai Cancer Institute, Bangalore which is a teaching cancer institute in India. He has many scientific publications to his credit.
Head and Neck Oncologist and Reconstructive Surgery
MBBS, MS (ENT)
Dr. Bharath G
Surgical Oncologist, Minimally Invasive and Robotic Surgeon
MBBS, MS, MCh Surgical Onco
Dr. Sreekanth Reddy
Surgical Oncologist, Laparoscopic Surgeon
MBBS, MS (General Surgery), M.CH (Surgical Oncology)
Surgical Oncologist, Gastrointestinal surgeon, Laparoscopic Surgeon
MBBS, DNB (General Surgery)
Surgical Oncologist, Minimal Access Onco Surgeon
MBBS, MS (General Surgery)
Surgical Oncologist, Head and Neck Oncologist
MBBS, MS (Otorhinolaryngology), Fellowship in Head and Neck Oncology
Medical Oncology
MBBS, MD (Medicine), DM (Medical Oncology)
Radiation Oncologist
MBBS, MD (Radiation Oncology)
Why Choose Us?
First and foremost, you can get your cancer treated from one of the best oncologist in Bangalore, Dr. Sandeep Nayak, who has gained recognition for his expertise, knowledge, and skills worldwide.
He is an expert in all surgical modalities, advanced laparoscopic and robotic surgery being his forte. He has received extensive training and experience in minimal access cancer surgeries.
He and his team of highly qualified and passionate oncologists are committed to providing superlative cancer treatment and care to all their patients in the safest possible way.
We believe in providing a multidisciplinary approach to treating cancer as it offers varied options, better planning, and positive outcomes.
We believe in offering personalized treatment and care to each patient. Our cancer specialist in Bangalore plans the treatment according to your condition and requirement. We will leave no stone unturned and will be your partner in your fight against cancer.
Booking your consultation at MACS Clinic
Cancer needs meticulous planning and systematic execution to get desired results. It has been a quest for us to provide a well-qualified opinion that is scientific and personalized.
At MACS Clinic, Bangalore, we offer two types of consultations:
Consultation with Dr. Sandeep Nayak
Fees – Rs. 1000
Expert opinion from Dr. Sandeep Nayak and his team of specialists (Tumor Board)
Fees – Rs. 5000
We also provide video consultation.
Being in Together to Heal and Overcome Cancer
Samrohana is a non-profit, non-government organization founded by Dr. Sandeep Nayak, a surgical oncologist in India. Working day and night in close proximity with the cancer patients and their families, he is well aware of the trauma, anxiety, and helplessness they face.
It had been his desire for a long time to support them in their hard times. This he is trying to accomplish through Samrohana. The main aim of this organization is Cancer Awareness. Early detection and timely treatment can make a huge difference in overcoming cancer.
We educate people about cancer through sessions, meetings, webinars, advocacy groups, and teleconsultations. Dr. Sandeep Nayak removes time from his busy schedule to reach out to the people. He thoroughly believes that cancer awareness can save many lives.
Over time, we wish to support the patients in the earning age group financially. For them, the battle against cancer becomes all the more difficult as they may be the sole earning member in their family. We wish to make society a bit more empathetic towards them. Together we can bring about a change in the life of cancer survivors.
Dr. V Sreekanth Reddy is a hardworking, highly skilled and very competent surgical oncologist having a special interest in Laparoscopic Surgical Procedures, Breast and GI Surgery.

Apart from being an expert in Breast and GI Surgery. surgeries, he is excellent in Laparoscopic Surgical Procedures.