Robotic Cancer Surgery in Bangalore, India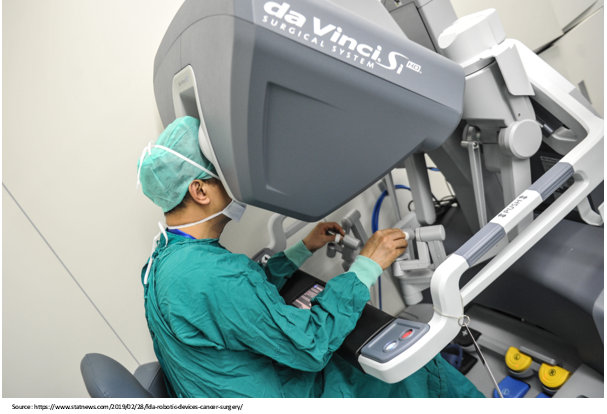 A cancer diagnosis can be distressing. That is why it is critical to discover the facts about the problem and the best treatment alternatives before making a decision.
Open surgical procedures have traditionally been used to treat malignancies. Open surgery is linked to a large wound, a longer recovery time, and a slower return to normal activities. 
Laparoscopic surgery has been proven to be a viable, safe, and effective treatment option for diseases such as colon, endometrial, cervical, and esophageal cancer. Even yet, the 2-dimensional view, devices with limited range of motion, and reliance on trained assistance to hold the camera impose constraints.
On the other hand, robotic surgery uses a camera controlled by the surgeon to provide very high quality and enlarged 3-dimensional vision. The surgeon can utilize devices with exceptional degrees of freedom in tight, constricted places to access difficult-to-reach malignancies and at angles that are impossible to achieve with open or laparoscopic equipment. 
Motion scaling allows the surgeon to limit the amount of instrument movement as a percentage of the surgeon's finger movement and allows for more precision. These provide the most flexibility and precision for outstanding cancer surgery procedures.
Due to enhanced visibility, robotic techniques in cancer surgery allow for a radical procedure while preserving nerves and other vital components. This is crucial in rectal, gynecologic, and prostate cancer surgeries. 
Seeing the importance of these procedures, Dr. Sandeep Nayak, one of the best surgical oncologist in Bangalore, India, went overseas to learn and master the techniques of laparoscopic and robotic surgeries.
The surgeon has to be highly trained to perform robotic cancer surgeries as it requires a high level of skills and expertise.
Dr. Sandeep Nayak is an expert in robotic cancer surgery and has performed hundreds of surgeries using this advanced surgical method. Hence, he is considered one of the best oncologist in India.
Well, robotic surgery does not imply that a robot will do the surgery. It simply means that the surgeon will conduct the surgery using a robotic surgery system like the da Vinci surgical system.
However, this system will not work without the surgeon's input as it cannot be programmed. So, the surgeon controls the robotic arms from a console placed nearby.
Robotic surgery offers excellent precision, vision, and control to the surgeon, thereby making the recovery process quicker and reducing the level of pain to a greater extent.
A few small incisions are made through miniature surgical instruments and a camera inserted into the patient's body during this surgery.
The surgical site can be viewed in a magnified, 3D high-resolution image on the monitor.
The surgeon moves the instrument and camera with the help of the controls. The robotic arm precisely follows the movements of the surgeon's fingers, wrist, and hand in real-time.
What to Expect From Robotic Surgery?
While each surgery is unique, the following are the general steps involved in robotic surgery:
The surgeon makes tiny incisions in the body (one to two centimetres long).
The surgeon inserts a small robotic instrument and a powerful camera into the body.
Then, the surgeon directs the procedure from a nearby console (a huge computer). The operation area can be seen enlarged with good quality at the console.
The surgeon sits at the console and adjusts the controls.
The devices detect these movements, which are translated into exact, real-time movements inside your body.
The robotic gadgets, which have a more excellent range of motion and agility than humans, allow the surgeon to perform delicate procedures in difficult-to-reach areas successfully.
Areas That Can Be Operated Using Robotic Surgery
Robotic cancer surgeries are mainly used to operate areas that are hard to reach and require great precision. This includes cancer surgery for the following:
How to choose which surgical option is the best?
Dr. Sandeep Nayak believes that the surgical techniques do not matter when it comes to the surgery as all types of surgery, be it open, laparoscopic, or robotic, give good results in the long term.
However, you need to get your surgery done by a proficient and highly experienced surgeon in the type of procedure you are looking for.
When it comes to Dr. Nayak, he always favors laparoscopic and robotic surgeries over open cancer surgery as they provide the patient with greater comfort, lesser pain, and lower risk of complications.
Furthermore, few doctors are as experienced as Dr. Sandeep Nayak, one of the best oncologist in India, when it comes to robotic cancer surgery.
Why is robotic cancer surgery a game-changer in fighting cancer?
Robotic surgery with the da Vinci System, one of the most advanced surgical equipment, allows for exceptionally high definition and magnified 3-dimensional vision. It helps the surgery to be performed with the utmost flexibility and precision.
The surgeon can employ instruments with exceptional degrees of freedom in limited places to access difficult-to-reach malignancies and at angles that are not possible with laparoscopic equipment.
With motion scaling, the surgeon can minimize the amount of instrument movement to a fraction of the finger movement, allowing more accuracy.
Dr. Sandeep Nayak, an ace surgical oncologist in India, always prefers using robotic cancer surgery as it provides enhanced vision, thereby helping in preserving the nerves and other critical structures while conducting radical surgeries.
It is especially crucial for rectal, prostate, and gynecologic cancer operations. As the veins and nerves are magnified in robotic surgery, it becomes considerably easier to save them from damage, thereby preserving their potency.
Cancers Dr. Sandeep Nayak Treats Using Robotic Surgery
Gynecologic cancers: Dr. Sandeep Nayak, a seasoned cancer specialist in Bangalore, India, has extensive experience using robotic surgery to treat a variety of gynecological malignancies, such as ovarian cancer, cervical cancer, fallopian tube cancer, and endometrial cancer.
Colorectal cancer: Surgeries for colon and rectal cancers are often complex, and thus robotic surgery is the best option. The surgeon uses nerve-sparing surgical procedures to preserve bladder, sphincter, and sexual function if possible.
Head and neck cancer: Dr. Sandeep Nayak, one of the best oncologist in India, uses innovative approaches for accessing difficult-to-reach head and neck cancers using assistive robots. Transoral robotic surgery (TORS) allows the surgeon to reach malignancies through the mouth. External incisions through the face and jaw are not required.
Thyroid cancer: The surgeon uses robotic surgery to treat thyroid tumors, providing quick recovery and no visible scars.
Thoracic cancer: The doctor uses robotic surgery to treat esophageal cancer, thymus cancer, lung cancer, and other mediastinal cancers.
Urologic cancer: For Dr. Sandeep Nayak, robotic is a standard surgical approach for treating urologic cancers like prostate cancer, bladder cancer, penile cancer, and testicular cancer. Bladder cancer robotic surgery techniques have advanced, enabling both whole and partial bladder removal using the minimally invasive approach.
Now, let's take a look at the
Benefits of Robotic Cancer Surgery
Patients may benefit from robotic surgery in the following ways:
Lesser pain
Low risk of infection and complication
Less blood loss
Short hospital stays
Quick recovery
Improves quality of life
Limitations of Robotic Surgery
The high expense of setting up a robotic surgery system can drive up the cost of surgery. Surgical robots are expensive to maintain, and operating them necessitates additional training, which is also costly.
Requires immense expertise and experience.
Mechanical failure – the possibility of a breakdown
FREQUENTLY ASKED QUESTIONS
Robotic surgery provides consistent, reliable outcomes with less blood loss, pain, and recovery time than conventional surgical methods.
There are many benefits associated with laparoscopy and robotic surgery related to the patient during and post-surgery. The major benefits of laparoscopy and robotic surgery compared to traditional open cancer surgery are
Reduced pain and discomfort
Less blood loss and the need for blood transfusion
Few complications post-surgical process
The hospital stays will be reduced
Less risk of infection
Faster recovery and return to normal life.