Trans Oral Robotic Surgery (TORS) in Bangalore, India
Nobody wants to hear the "C-word" from their doctor during a consultation. But if you are diagnosed with cancer, you should seek the finest possible cancer treatment in India. In the case of throat cancer, there is a need for successful and safe treatment as with other cancers. 
Chemotherapy and radiation therapy are widely acknowledged and used therapies for throat cancer. Due to its aggressive nature and life-altering adverse effects, this treatment is not always the ideal option for throat cancer patients.
Since throat cancer is a widespread condition, a new method called Trans Oral Robotic Surgery in India has become the most precise and less invasive procedure available. Remarkably, Dr. Sandeep Nayak, one of the few surgical oncologists in India, is qualified and trained to execute this procedure.
If you are keen to know more about Trans Oral Robotic Surgery (TORS), scroll down to learn more.
First, let's know,
What is Trans Oral Robotic Surgery (TORS)?
Accessing the afflicted area during traditional surgery for malignancies of the throat or mouth can be complex. Trans-oral robotic surgery (TORS) is a type of surgery in which computer-assisted technology gives additional guidance. The technology improves the capacity to manipulate tissues and reach afflicted growths in difficult-to-reach areas.
TORS permits patients to return to normal activities faster, with fewer complications, and reduces the need for chemotherapy and radiation. Furthermore, the overall results are comparable to those of a more intrusive open procedure.
Now, let's see,
What conditions can TORS treat?
TORS is used to treat a variety of head and neck malignancies, including:
Hypopharyngeal cancer, a type of throat cancer that affects the lower section of the throat.
Cancer of the larynx (voice box).
Oropharyngeal cancer, affects the back of the throat, the base of the tongue, or the tonsil.
TORS is also used to treat non-cancerous illnesses such as:
Obstructive sleep apnea, a sleep disorder.
Lingual tonsillitis, inflammation of the tonsils at the base of the tongue.
Dr. Sandeep Nayak, a highly-trained and experienced surgical oncologist in India, will work with the patients to evaluate whether TORS is suitable for them.
Furthermore, for individuals with throat cancer caused by the human papillomavirus (HPV), Trans Oral Robotic Surgery in India can be a very successful treatment option. TORS may be the only therapeutic option for some HPV-related throat cancer patients.
Now, let's describe,
The Actual Procedure of Trans Oral Robotic Surgery
During the procedure, an assistant accompanies the patient. As the surgeon guides the robot, the assistant's job is to provide any required help as soon as possible.
To enable appropriate exposure and access for the robotic device, specific tools and retractors are needed.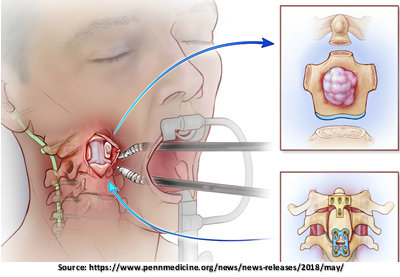 The two surgical arms are inserted into the mouth at specific angles throughout the procedure.
The device collects normal tissues around the margins of the tumor's location and freezes them for analysis.
The surgery is considered complete when these tissues are clear of cancerous cells.
Let's take a look at the, 
Benefits of Trans Oral Robotic Surgery (TORS)
TORS has several potential advantages over open surgical techniques, including:
Avoidance of a jaw split approach and tracheotomy.
Quick return to regular speech and eating abilities.
Significantly less discomfort.
Less blood loss.
Short hospital stays.
Less scarring.
Reduces or eliminates the need for chemoradiation therapy.
Why Should You Choose Dr. Sandeep Nayak for TransOral Robotic Surgery in India?
Dr. Sandeep Nayak is dedicated to giving the best possible care to his patients. He is well-versed in robotic cancer surgical techniques.
Besides, he has extensive experience eliminating tumors with robotic surgery, which is more beneficial to cancer patients.
He can successfully remove the tumor from the affected area with TORS while ensuring little pain and discomfort for the patient and cosmetically more minor scars than traditional open surgeries.
Patients prefer consulting Dr. Sandeep Nayak because of his kind demeanour and patient-centered treatment approach.
FREQUENTLY ASKED QUESTIONS
Robotic surgery provides consistent, reliable outcomes with less blood loss, pain, and recovery time than conventional surgical methods.
There are many benefits associated with laparoscopy and robotic surgery related to the patient during and post-surgery. The major benefits of laparoscopy and robotic surgery compared to traditional open cancer surgery are
Reduced pain and discomfort
Less blood loss and the need for blood transfusion
Few complications post-surgical process
The hospital stays will be reduced
Less risk of infection
Faster recovery and return to normal life.