Dr Sandeep Nayak
Dr. Sandeep Nayak
MBBS, DNB – General Surgery
DNB – Surgical Oncology
MRCS (UK)
MNAMS – General Surgery
Fellowship in Laparoscopic and Robotic Surgical Oncology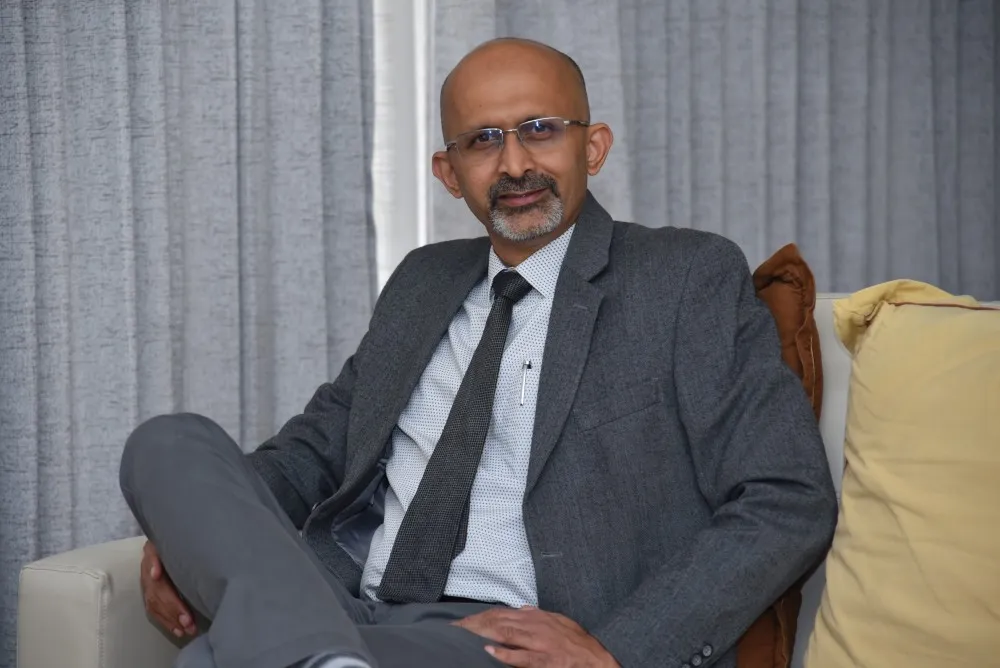 Clinic:
'MACS Clinic', 350, 2nd Cross, Near Ashoka Pillar, Behind PTA School, 1st Block, jayanagar, Bengaluru- 560011
Know your Doctor:
After a lot of passion and hard work, the world recognized Dr. Sandeep Nayak as the best oncologist in India.
Being an ardent student Dr. Nayak has a lot of degrees to his credit.
After completing his MBBS from Kasturba Medical College he went on to do his post graduation in General Surgery from Government Medical College, Calicut.
Later on, he pursued doctoral in Surgical Oncology from the prestigious Chittaranjan National Cancer Institute, Kolkata.
Furthermore, he also did his Fellowship in Laparoscopic and Robotic Onco-Surgery.
After completing his studies, Dr. Sandeep Nayak had the privilege to work in some of the top hospitals around the world. This acquainted him with the latest techniques in surgical oncology.
That's not all!
Dr. Sandeep Nayak who is one of the best oncologist in Bangalore firmly believes in sharing his knowledge with the younger upcoming doctors. He taught surgical oncology at Kidwai Memorial Institute of Oncology, Bangalore.
Besides that, he removes time for scientific publications and uploads several videos about the latest techniques in surgical oncology which have earned him a lot of accolades and prizes.
Presently, Dr. Sandeep Nayak is relentlessly working hard to provide cancer patients with the best surgical solutions using cutting-edge technologies namely Laparoscopic and Robotic surgery.
Specialization: Minimal Access Cancer Surgeries (MACS) – Laparoscopic and Robotic surgery.
Minimally Invasive Neck Dissection (MIND) for cancer of the mouth and Modified Video Endoscopic Inguinal Lymphadenectomy (VEIL) for groin nodes.
Areas of proficiency: Cancer surgeries for Head and Neck Tumors, Abdominal Organs, Digestive Tract Cancers, Chest Tumors, Urinary Tract Cancers, Colorectal Cancer and Gynecologic cancer.
Association and Membership: Dr. Sandeep Nayak is a Member of Royal College of Surgeons of Edinburgh, UK. Apart from this, he is also an active member of many national and international professional associations like ASI, ASCO, SSO and IASO.
Current Appointments:
Director and Head of Department of Surgical Oncology at Fortis Hospital, Bangalore
Chief of Surgical Oncology at Macs Clinic, Bangalore
Achievements & Awards
'Global Excellence Award' at International Conference on Innovations in Biotech and Medicine, Oct 2013 held at Bangalore, India
"Pampanagowda Video Award" for Minimally Invasive Neck Dissection (MIND) video at Karnataka State Chapter of ASI, February 2016 held at Shivamogga.
"Best Video Award" for Laparoscopic Low Anterior Resection video at Asian Clinical Oncology Society (ACOS), April 2016 held at New Delhi.
"Competitive Video Award For Youngsters" 2nd prize for Modified Video Endoscopic Inguinal Lymphadenectomy (VEIL) at NATCON-IASO, September 2015 held at Bhuvaneshwar, India.
Indian Council for Medical Research grant for the post-doctoral dissertation financial grant from 2007 to 2010 awarded for potentially significant scientific work. Only 50 theses are selected for such a grant per year from all over India.
Editor for 'AFP News' for year 2001-02, periodical journal published by World Health Organisation (WHO) for National Polio Surveillance Project (NPSP), India, to assist in the process of Polio surveillance.
Other Trainings And Courses
Training Course In Operative Laparoscopy – Basic And Advanced from All India Institute of Medical Sciences (AIIMS), New Delhi in Aug 2009.
Certificate Course in Essential Palliative Care by Indian Association of Palliative Care in 2008.
Advanced BTLS Certificate Course from St Johns Medical College, Bangalore in June 2005.
Publications

1999

Nayak SP, Venugopalan PP, Prabhu GGL. Can Diet Predispose to Urinary Tract Infection? Ind J Urol. 1999; 15(2): 93-99.


2009
Ashraf M, Biswas J, Majumdar S, Nayak S, Alam N, Mukherjee KK, Gupta S. Tamoxifen use in Indian women – adverse effects revisited. Asian Pac J Cancer Prev. 2009 Oct-Dec; 10(4):609-12. PMID: 19827879.
Nayak SP, Sasi MP, Sreejayan MP, Mandal S. A case-control study of role of diet in colorectal carcinoma in a South Indian Population. Asian Pac J Cancer Prev. 2009; 10(4):565-8. PMID: 19827870
2010

Nayak SP, Sreejayan MP. Management of supernumerary testis in an adult: case report and review. Andrologia. 2010; 43: 149–152

2011


Ashraf M, Jha JK, Mukherjee N, Panda CK, Nayak S, Jadhav TS, Dikshit N, Nath NC, Chakraborty J, Biswas J. BRCA1 protein expression and its correlation with ER/PR status in sporadic and familial breast cancer in Eastern Indian patients–a hospital based study. J Indian Med Assoc. 2011 Dec;109(12):873-8.
Ashraf M, Biswas J, Jha J, Nayak S, Singh V, Majumdar S, Bhowmick A, Dam A.Clinical utility and prospective comparison of ultrasonography and computed tomography imaging in staging of neck metastases in head and neck squamous cell cancer in an Indian setup. Int J Clin Oncol. 2011 Dec;16(6):686-93. doi: 10.1007/s10147-011-0250-2. Epub 2011 Jun 16.
Ashraf M, Jha J, Choudhry A, Aggarwal B, Nayak S, Chakraborty J, Majumder S, Biswas J. Neoadjuvant and adjuvant therapy with imatinib for locally advanced gastrointestinal stromal tumors in eastern Indian patients. Asian Pac J Cancer Prev. 2011;12(8):2059-64.

2013


Nayak SP, Sigh V, Dam A, Bhowmik A, Jadhav TS, Ashraf M, Shah RK, Biswas J. Mechanism of Thyroid Gland Invasion in Laryngeal Cancer and Indications for Thyroidectomy. Indian J Otolaryngol Head Neck Surg. Jul 2013; 65 (1); 69-73.


2015


Nayak SP, Kiran J. Minimally Invasive Neck Dissection (MIND) Using Standard Laparoscopic Equipment: a Preliminary Report and Description of Technique. Indian J Surgical Oncology. 2015 Oct; DOI: 10.1007/s13193-015-0474-0
Nayak SP, Ashraf M, Dam A, Biswas J. Internal Jugular Vein Duplication: Review and Classification. Indian J Surgical Oncology. 2015 Sep; pp1-5
Maiti GP, Ghosh A, Mondal P, Baral A, Datta S, Samadder S, Nayak SP, Chakrabarti J, Biswas J, Sikdar N, Chowdhury S, Roy B, Roychowdhury S, Panda CK. SNP rs1049430 in the 3′-UTR of SH3GL2 regulates its expression: Clinical and prognostic implications in head and neck squamous cell carcinoma. Biochim Biophys Acta. 2015 Feb 26;1852(5):1059-1067

2016


Jaiprakash Gurawalia, Kapil Dev, Sandeep P. Nayak, Vishnu Kurpad, Arun Pandey. Less than 12 lymph nodes in the surgical specimen after neoadjuvant chemo-radiotherapy: an indicator of tumour regression in locally advanced rectal cancer? J Gastrointest Oncol 2016 doi:10.21037/jgo.2016.09.03


2017


Sandeep Nayak P, Chunduri Srinivas, Jaiprakash Gurawalia, Vishnu Kurpad, Shiva Kumar. Uptake of Laparoscopic Colorectal Cancer Surgery at Regional Cancer Centre, South India. IJSR; Vol 6 Issue 4; 2017 Apr; 652-655.
Sandeep Nayak P, C. Srinivas, Vikas Sharma. Comparison between Minimally Invasive and Open Esophagectomy in Cancer Esophagus Experience at a Tertiary Cancer Centre in India. IJSR; Vol 6 Issue 3; 2017 Apr; 189-191.