Dr. Sandeep Nayak is the pioneer who introduced laparoscopic and robotic cancer surgery in India. Cancer may now be detected and treated faster thanks to advancements in infrastructure and technology in the field of healthcare, especially when using the latest techniques in cancer treatment such as laparoscopy and robotic surgery.
Dr. Sandeep Nayak is one of the few doctors in India with extensive training in laparoscopy and robotic cancer surgery. Dr. Nayak is regarded as one of the best oncologist in India. After all, he has immense expertise in the early detection of cancer because he believes that "prevention is better than cure."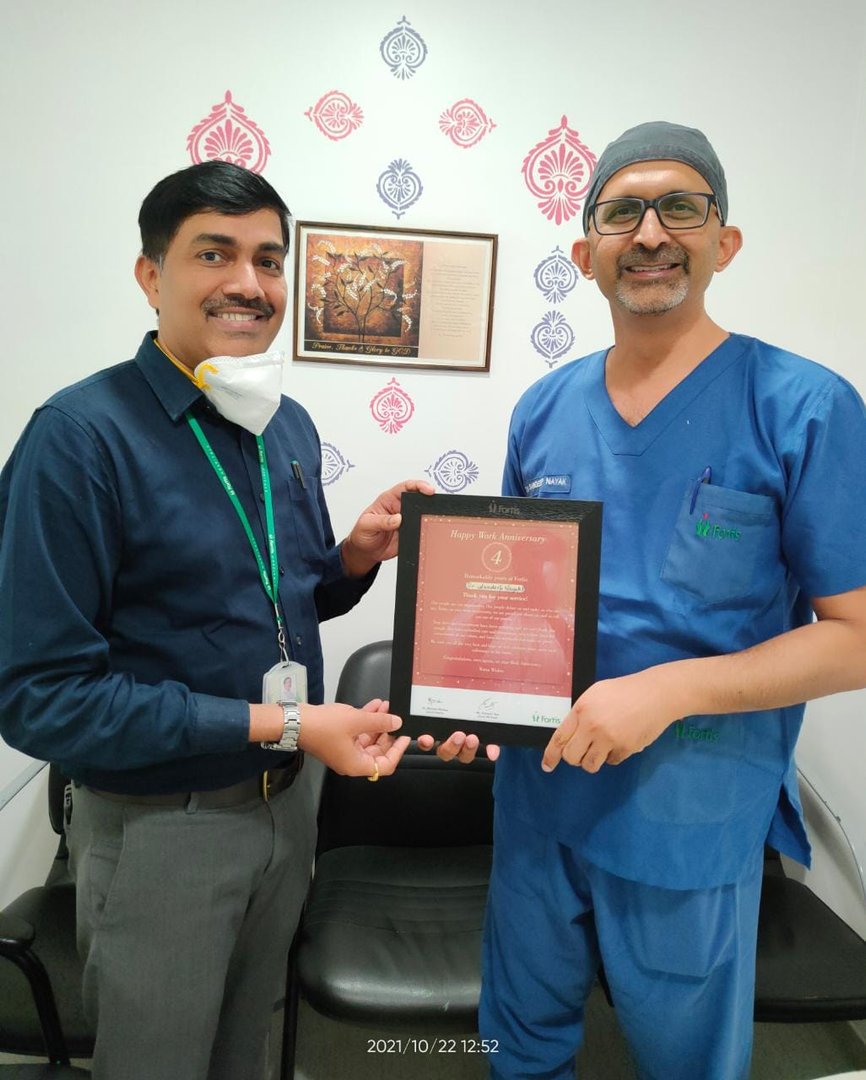 He is the director of the robotic and laparoscopic surgical oncology department at Fortis Hospital, a renowned multispecialty and one of the best cancer hospital in India with JCI and NABH accreditation.

Dr. Nayak aims to replace traditional cancer surgery with improved laparoscopic and robotic surgical techniques to prevent cancer patients from undergoing intensely painful surgery. He is regarded as one of the few doctors who loves sharing his knowledge with others.

The key message that the doctor intends to give is – "The long-term result of cancer treatment depends upon the quality of the surgery and not on the approach, whether open or laparoscopic or robotic surgery. A patient can choose robotic or laparoscopic surgery for many other benefits they provide." Some of those benefits are listed below when compared with the conventional open surgical treatment for cancer:
Less pain and discomfort
Reduced blood loss
Cosmetically better results make the surgery almost scar-free
Short hospital stays
Quicker return to normal lives
Less wound-related complications
The best possible surgery cure rate
Cancer can be cured if detected early!
Cancer, the word itself, runs a chill through our bodies. So, imagine the helplessness and fear in the mind of people and their loved ones who are suffering from this dreaded disease. However, cancer is NOT the end of life as you can successfully fight it off with proper and prompt treatment from an experienced cancer specialist.

And who's better than Dr. Sandeep Nayak, the best oncologist in India to help you in your time of distress. Not only does he have a rich experience of around two decades in this field, but also, he is a pioneer in the field of Laparoscopy and Robotic surgery.
Dr. Sandeep Nayak – A blessing for cancer patients
To be considered the best oncologist in India is no mean feat. Apart from his patients, even his colleagues hold him in high regard. Dr. Nayak has earned this respect for his unwavering commitment and determination to his work and not to forget the countless surgeries he has successfully performed to save thousands of lives.

It is his mission to end the misery of cancer patients and aid in eradicating the disease. For this, he constantly keeps himself abreast with the latest development in surgical oncology.

Moreover, Dr. Nayak even went abroad to gain knowledge and get trained in advanced surgical procedures using laparoscopy and robotics. He firmly believes that these cutting-edge surgical procedures are the best option for cancer patients.
Cancer Specialist in India - Dr Sandeep Nayak
Being called the best oncologist in Bangalore, India comes with a lot of responsibility and accountability. There are hundreds of patients from India and worldwide who have their hope of survival pinned on them.

Due to this, Dr Sandeep Nayak puts in long hours at work to consult a maximum number of patients and undertake several surgeries daily.

Basically, Dr. Nayak is based in Bangalore, where he consults in some of the top hospitals like Fortis Hospital and Macs Clinic. Apart from these hospitals, he visits Ramakrishna Hospital and Bangalore Hospital for surgeries.

He is an expert in Laparoscopic and Robotic surgery. He specializes in surgeries for treating colorectal cancer, stomach cancer, pancreatic cancer, liver cancer, and esophageal cancer. That's not all. For scarless neck dissection and thyroid cancer surgery, he is the best surgical oncologist in India.
Dr. Sandeep Nayak Can Be Consulted In The Following Hospitals In Bangalore
Macs Clinic (For consultation)

Timings - Monday to Saturday,

3.00 pm to 6.30 pm
Address - Jayanagar, Bangalore, Karnataka - 560011.

Fortis Hospital (For Consultation)

Timings- Monday to Friday,
12.00 pm to 2.00 pm
Consultation fees- Rs. 550
Address - Bannerghatta Road, Bangalore, Karnataka - 560076.
Dr. Nayak's views on Cancer
According to Dr. Sandeep Nayak, cancer is a disease that needs immediate treatment. In his opinion, "Prevention is better than cure." So, he always stresses that every individual should routinely get screened for cancer as this is the best way to overcome this deadly disease.

If the cancer is caught in the initial stages, there are very high chances of overcoming this disease and leading a cancer-free life. It is crucial as with every passing day, there is a high chance of metastasis (cancer spreading to other parts of the body).

This is the main reason why Dr. Sandeep Nayak takes time out of his hectic schedule to spread awareness about cancer and how it can be prevented. He makes it a point to attend seminars, medical forums, TV interviews, and any such gatherings to interact with the general public and share his opinions.

He urges people, especially youngsters, to lead a healthy life, including eating a balanced diet and undertaking physical activities. Not to forget abstaining from tobacco and alcohol consumption. Undoubtedly, Dr. Nayak's selfless commitment towards his patients and society makes him the best oncologist in India.
News and Publications