In India, breast cancer is the most common cancer among women, with one woman getting diagnosed every 4 minutes and one dying of it every 8 minutes. The statistics are scary.
The good news is breast cancer can be cured if diagnosed and treated early. The 5-year survival rate for treatment in an early stage is 99%. That's the main reason Dr. Sandeep Nayak, a world-acclaimed surgical oncologist in Bangalore, stresses the need for breast cancer awareness among people.
He is the Director and HOD of Minimally Access Surgical Oncology at the prestigious Fortis Cancer Institute, Bangalore. He is considered a leading oncologist for breast cancer treatment in Bangalore, India, for his vast experience, astute diagnosis, and exceptional surgical skills.
He firmly believes that women must get screened regularly for early detection, which is the key to successfully treating cancer. Further, they must carry out self-examination at home every month. It's high time women stop ignoring their health.
Dr. Sandeep Nayak offers advice on identifying breast cancer in its earliest stages.Continue reading to learn more about the early warning signs of breast cancer and how to protect your health by following the tips.
What are the signs and symptoms of breast cancer?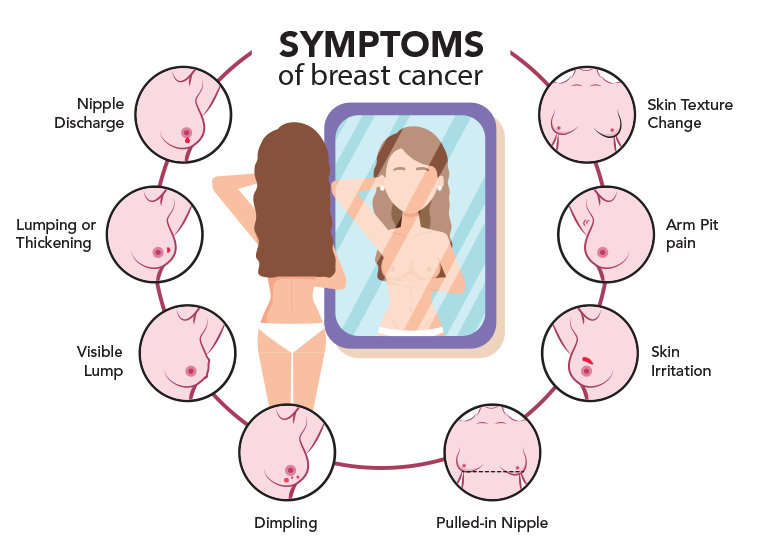 While doing a self-exam at home, you should look out for the following signs:
Lumps
Change in skin texture, like extremely dry, scaly, or sunburned
Nipple discharge
Swelling and redness around the breasts
Dimpling of skin
Inverting of nipples
Crusting or rashes around the areola and nipples
Lymph node changes
Now that you know the initial symptoms of breast cancer let's move forward to understand how to detect breast cancer early on.
Perform regular self-exam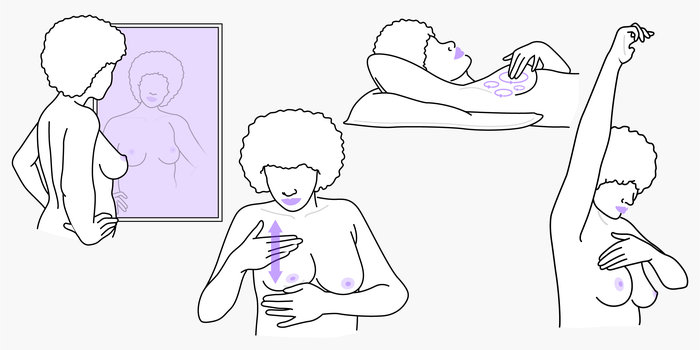 Dr. Sandeep Nayak, one of the best cancer specialist in Bangalore, strongly advises women to perform monthly self-exams and check for any changes in the breast. Doing it regularly will make them more attentive to any potential warning signs.
Steps for breast self-examination:
Stand before a mirror and look at your breasts. Pay close attention to any potential skin texture anomalies, such as dimpling, creases, or other irregularities.
Then look for any changes in the texture of your skin or any discharge as you raise your arms above your head.
Further, check for any evident lumps with a firm, smooth touch while resting on your back or in the shower. Don't forget to pay attention to the area under your arms.
If you notice a change or lump in the breast which wasn't present earlier, please get it examined by a doctor as soon as possible. It may just be a benign cyst or lump, but it is always better to be cautious.
Being aware of your risks and family medical history
Knowing your family's medical history is crucial for determining your breast cancer risk. Family history includes first-degree relatives, your parents and siblings, and second-degree relatives, your aunts and cousins.
A woman's risk significantly increases if her family has a history of the disease.According to some research, your risk doubles if your parents or siblings have breast cancer.
Remember to discuss your family history of breast cancer with your doctor, so they know the possibility of hereditary concerns. Accordingly, they may advise you about regular screening and a healthy lifestyle.
Go for regular check-ups.
Women should visit their doctor for an annual health check-up, which usually includes a breast exam, routine pelvic exam, and pap test.
During the examination,make it a point to discuss your health issues, family history, and healthcare options with your doctor. However, immediately consult your doctor without waiting for your annual check-up if you notice a lump or other breast cancer-related signs.
When to start getting a mammogram
For early breast cancer detection, mammograms are essential. This non-invasive techniquecan identify cancer three years before you feel a lump. Your age and medical history will determine how often you should have a mammogram.
Dr. Sandeep Nayak, a prominent oncologist for breast cancer treatment in Bangalore, recommends that women above 40 should get a mammogram done every two years.
However, if you are below 40 and have a family history of breast cancer, talk to your doctor about it. He will plan your screening schedule depending on your risk factor.
Consultation with the doctor after screening
If your mammogram results show up some abnormalities, your doctor may suggest added tests, such as:
Please do not panic about the abnormal mammogram result as it may be due to a benign tumor or cyst, which are quite common.
And if breast cancer is detected, then be assured that many treatment options are available. Women have a better chance of overcoming breast cancer with early detection, diagnosis, and treatment. Dr. Sandeep Nayak, a leading oncologist in Bangalore, says that India is at the forefront of advanced cancer treatments. We have the latest medical technology and expertise that is on par with the best medical centres in the world.
He has successfully treated thousands of breast cancer patients with advanced surgical modalities, including laparoscopic, robotic, and endoscopic surgeries. These minimally invasive surgeries offer unparallel surgical precision, less trauma, quicker recovery, minimum complication, and faster return to a normal lifestyle.